Top 25 stocks bought by Hedge Funds in 1Q of 2021 and one Tesla news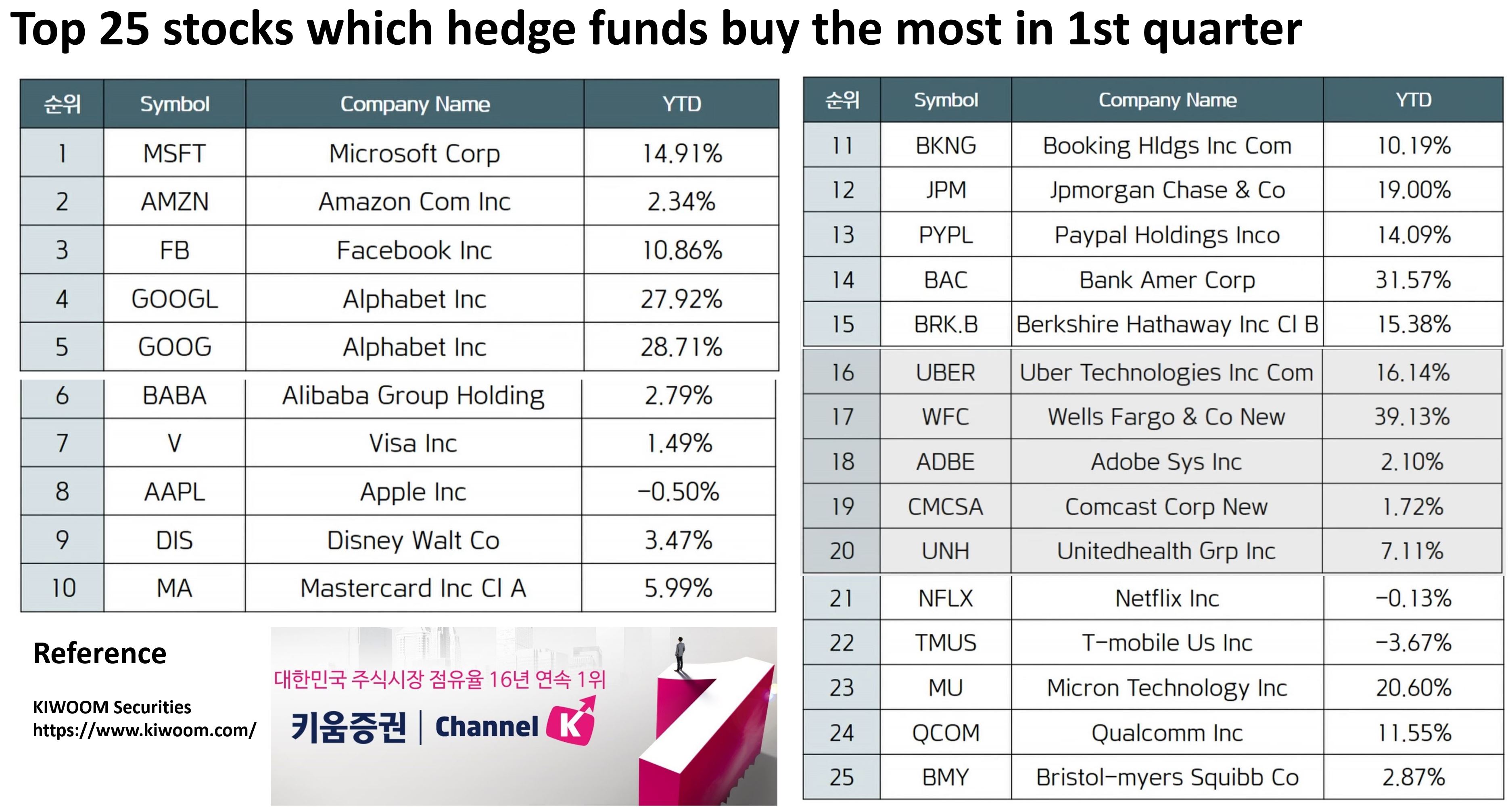 Today I introduce the top 25 stocks bought by Hedge Funds in the first quarter of 2021.
Number one is Microsoft and Amazon, Facebook, Google stocks are in Top 5.
Only Apple was pushed out of the top 5 and ranked 8th.
YTD of Goolgle is 28% and Apple is -0.5%.

Among the top 10 stocks in addition to the Big 5, notable is Disney.
Disney ranked 9th and Netflix was pushed back to 21st.
Hedge funds seem to see Disney's growth positively in the streaming service sector. In addition, as the restrictions due to Covid-19 gradually disappear, sales of existing major industries such as Disney's theme parks are expected to improve.

Hedge funds seem to have bought a lot of financial stocks and travel stocks in anticipation of earnings improvement after Covid-19.
Wells Fargo is a new stock in the top 25, YTD is 39.13%, showing the highest growth rate among them.
In addition, Bank of America also rose 31.57% this year, showing a remarkable rise in banking stocks, and hedge funds seem to have made profits by increasing their investment in this field.

In addition, it was ranked 6th as buying on Alibaba Group Holdings is also steadily occurring.
Micron Technology, which is ranked 23rd, also stands out for its 20.6% increase this year.

On the other hand, among the Top 25, YTD negatives are Apple -0.5%, T-mobile -3.67%, and Netflix -0.13%.

Stocks with a lower 1Q growth rate than other stocks need to watch their earnings releases carefully.
These stocks are all verified stocks, and if this performance and guideline come out positively, the stock price could rise further to make up for the sluggish 1Q21 stock price.
Next one is about an article from Bloomberg.